The Clan Macpherson Museum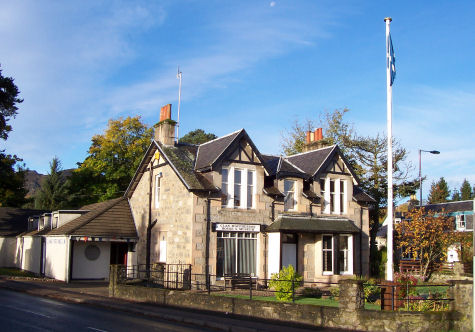 The Clan Macpherson Museum first opened its doors in 1952 to house treasures already in the hands of individuals. Over the years it has grown considerably in both size and stature and now boasts a large collection of artefacts and other objects of historical importance. The collections are significant to the Highlands of Scotland and to members of the Macpherson Clan in particular.
To the Museum's acclaim it has achieved accreditation with the Museum Galleries Scotland and the Arts Council England. It has also been awarded 4-Star Museum status with Visit Scotland (Scottish Tourist Board).
The layout of items in the Museum is organised in chronological order enabling a story to be told through objects, documents and text as you make your way round. There is an audio-visual presentation provided at the start of the Museum's circuit and this gives visitors insight into the clan system and the Macpherson Clan.
You can take a video tour of the Museum as it was revised in 2020 by going here.
The Chief of the Clan Macpherson is James B Macpherson of Cluny, the Clan's 28th Chief. Members of the clan are fortunate to have their Chief living in Scotland; Cluny, as he is referred to, takes an active part in Clan activities and he has a strong presence in the Museum itself.
The Clan Macpherson Museum Trust, which is a charitable trust, runs the Museum, and the Museum Advisory Committee manages it. Neither trustees nor managers receive remuneration for their work; they are all volunteers.
There is no Government or Local Authority funding available to the Clan Macpherson Museum; it relies totally on donations from visitors and members of the Clan Macpherson Association for its existence and continual growth.
Entry to the Clan Macpherson Museum is free, however, it costs about £3 per person to keep the Museum open, so a donation "in the box" would be appreciated for those who wish to make a contribution. All donations are much appreciated and go towards the upkeep of the Museum and of its unique collections.
We are proud to be a Scottish Tourist Board Four Star Museum, have a TripAdvisor Certificate of Excellence, be Assisted Wheelchair Access Registered and an Accredited Museum.
We have been given the 'Good To Go, Scotland' award in recognition that we have followed government and industry COVID-19 guidelines, ensuring processes are in place to maintain cleanliness and aid social/physical distancing.